Hi I'm Gi and Crafting is my happy place. Like many crafters, my often messy, much loved craft room is my sanctuary. There I find the stresses and strains of life just melt away. Since childhood I have always been arty and crafty as it were. Encouraged by my parents and being lucky enough to attend a school that inspired and nurtured my love and passion for all things creative, and training as a silversmith, has all led me to creating the growing community that is Happiness in Crafting.

In 2018 I made my first video for YouTube, with nothing more than a faint hope that at least one person would watch it. My goal then and still is, to build a business around my hobby and the love of making things with my hands. My partner too shared this dream and together we worked towards fulfilling it. From that one video I have watched with much wonder and great appreciation as it has grown into so much more. I never thought it would mean so much to people and the comments on YouTube and the messages I receive in the Happiness in Crafting Facebook Group from all the grateful and enthusiastic followers and subscribers never ceases to amaze me, nor do the many wonderful things they create.

In early 2020 around the time of the Covid-19 Pandemic and Lockdown, my partner Andy and I decided that he would join me full time to help build the brand and free up time for me to create. With a Customer Service and Administration background, Andy has now become an integral cog in our little machine.

I now get to create not only in my craft room with paper and glue but digitally too. Creating digital kits for Junk Journals is just another cherry on my crafting cake. For some time now Junk Journals and Paper Crafting in a Shabby Chic and Vintage style has been a particular passion of mine and one I am more than happy to share.
What started off as a "one man band" with the addition of Andy as administrator and co-creator and Emily as moderator for the Facebook Group Happiness in Crafting is slowly growing in to so much more.
Gi is the co-founder and creator of Happiness in Crafting. Having attended a school that focused on the Arts, and training as a Silversmith, she has been a keen crafter since childhood. Her background in Graphic Design and teaching Art and Crafts has been an important part in building both her YouTube channel and Etsy Shop.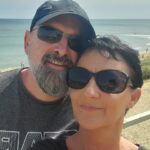 The lesser known co-founder of Happiness in Crafting is Gi's partner Andy. Coming from a Customer Service, Graphic Design and IT background, Andy is the technical support arm of Happiness in Crafting.


For any enquiries email: gi@happinessincrafting.com
Subscribe to our newsletter
Sign up to receive monthly updates and exclusive content